II Artificial Intelligence in Healthcare Symposium and Datathon
From April 25-27th 2019 Hospital Israelita Albert Einstein (HIAE), the PROADI-SUS project and MIT organized its Artificial Intelligence in Healthcare Symposium and Datathon.
In the first day, we attended a Symposium including talks and round tables with experts in the field of Artificial Intelligence, Big Data and Healthcare. I took some notes of things I found interesting and will be posting here for further consultation.
Symposium
Richard Delaney - Vital Strategies
Intersection Between High-dimensionality Data and Established Public Health Databases
High Dimensional Data:

Many factors to control for, harder to do hypothesis testing. One alternative is to leverage machine learning to do more pattern recognition
Don't always come with pre conceived ideas, but try to find patterns freely
Find probabilities of actions to know where to deliver Public health service

Creating conditions to success:

Start with a project: avoid "We prepare and then we act", we are never prepared enough! Start easy, purposeful, datathon events follow this idea!
After the first step, discuss systemic changes
Nick Guldemond - The Institute of Health Policy & Management Erasmus University
Digital Technologies for Public and Private Primary Care
Design Thinking for Health Data Science Projects

Patient Journey
Clinical Pathway

Data new vs old Wikipedia

Findable
Accessible
Interoperable
Reusable

If we find a good solution, how do we scale? To another region, etc…
Jacson Venâncio Barros - President of the Brazilian Association of CIO's in Health
Technologies for Supporting Public Health Management and Governance Problem: Startups are disconnected from end users
70% of hospitals don't have eletronic medical records
Lack of standards in vocabulary (taxonomy)
Asymmetry of information: each specialty has its own jargon
Lack of trust among health sectors Challenge: Identify in this sea of ​​data, which is the drop that interests us
Round Table: Challenges of Big Data and AI in Population Health - Gisele Bohn, Richard Delaney, Nick Guldemond, Jacson Barros, Fatima Marinho
Topics:
Aggregate behavioral data to clinical data
Think small first: break problems into small questions that big data can help
Predict events that are repeated in certain population groups
Integration with the real world
How social networks influence behaviour
Open Session: Data Access, Privacy and Security - Andrea Suman, Silvio Pereira, Anderson Soares, Marcelo Felix, Rogéria Leoni Cruz
Restrictive law?
Big Data x Data Governance
No safe culture, territoriality, data sharing (would it restrict the access for research?)
Loss of potential of using machine learning
Leonardo Rolim Ferraz
Data Driven ICU - Einstein Initiative
Lucas Bulgarelli - MIT/HIAE
Big Data 360
MIMIC
De-identification
Leveraging electronic health records for clinical research
Sharing - Physionet
Ary Serpa Neto - HIAE
Innovative Models of Clinical Trials Using Large Databases
Christopher Cosgriff - MIT
Deep Learning: A Brief Overview for Clinicians
Round Table: Challenges of Big Data and AI in the Intensive Care Unit - Leo Anthony Celi, Alistair Johnson, Leonardo Rolim Ferraz, Ary Serpa Neto, Lucas Bulgarelli
Leo Anthony Celi - MIT
MIT Experience in Data Analytics applied to Intensive Care Units
MIMIC (Medical Information Mart for Intensive Care)
Book: Secondary Analysis of Electronic Health Records
Opportunities for AI in Healthcare

Classification
Prediction
Optmization (Precision Medicine)
Alistair Johnson - MIT
Keynote: MIMIC Across Modalities: X-rays and Beyond
Chest X-rays are ubiquitous, radiologists are not
Perfect algorithms on imperfect reports
Matthieu Komorowski - Imperial College London
Keynote: Reinforcement Learning Approaches to Decision Support in Sepsis
Open Session: Opportunities for Innovation in Healthcare - Pedro Marton Pereira, Gustavo Landsberg, Gisele Bohn, André Bem
I forgot to take notes.
---
Datathon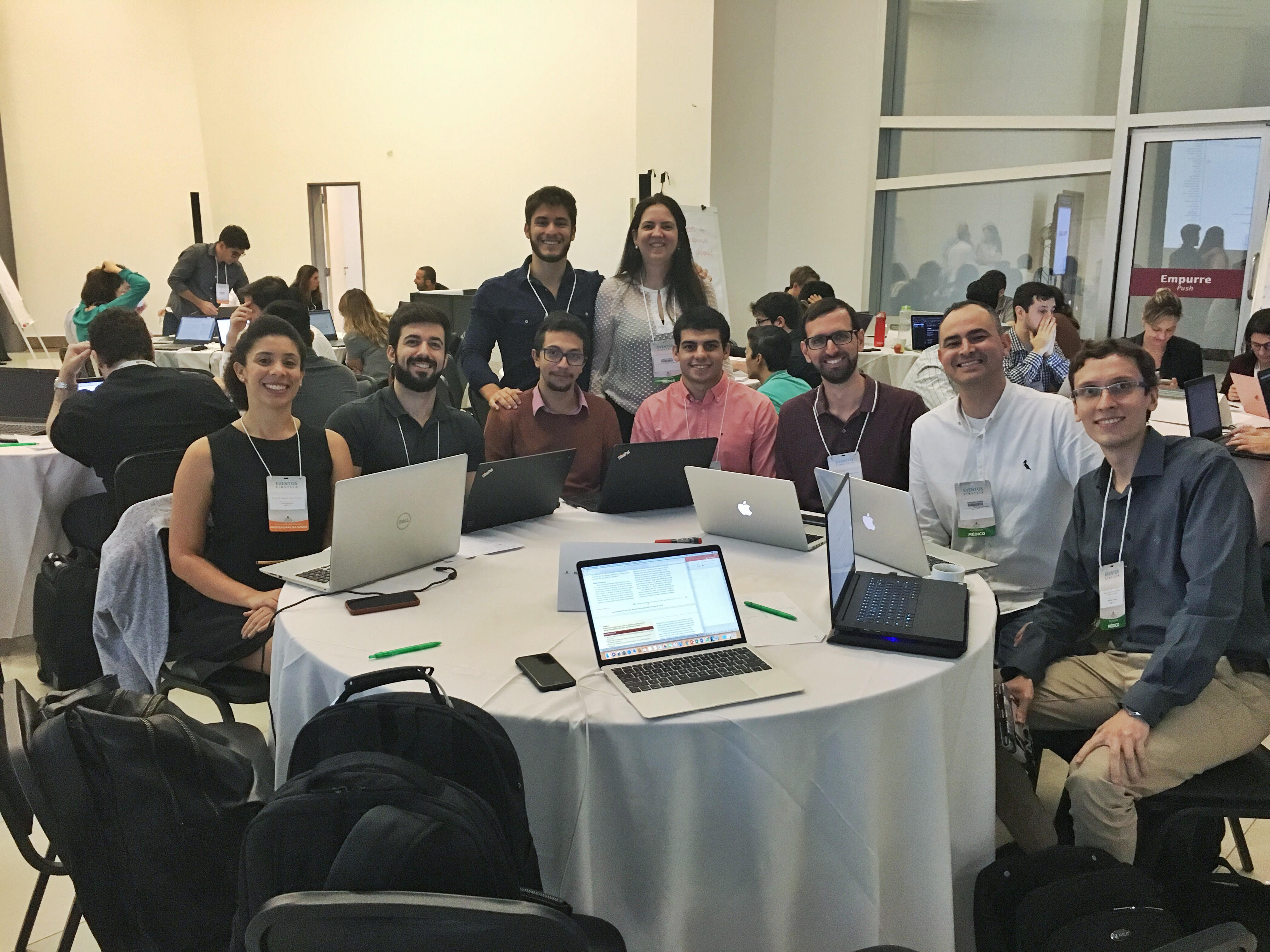 Cauê Bueno, Eduardo Casaroto, Fernando Ramos, Gustavo Silveira, Jacqueline Silva,
Matheus Silva, Marcelo Fiorelli, Sonia Altavila, Wellington Araújo
Pulse Pressure: a new outcome predictor in the Intensive Care Unit?
Brief literature review and motivation for study
Mean Arterial Pressure (MAP) is the main parameter used to define hemodynamic condition in critically ill patients and levels below 65mmHg are related to poor outcomes especially in septic patients
Pulse Pressure (PP) is related to pressure and stroke volume.
Pulse Pressure is a neglected hemodynamic parameter at bedside.
Aim of Study
Evaluate if Pulse Pressure is a reliable predictor of 28-days mortality compared to Mean Arterial Pressure in critically ill patients
Data Source
Inclusion criteria:

First ICU admissions (MIMIC-3)

Exclusion criteria

Patients readmitted at ICU in the same hospitalization
Age < 18 years
Statistical analysis
Description of the sample:

mean and standard deviation
bars plots and boxplots

Logistic regression model

Outcome: 28-days mortality (from ICU admission)
Model 1: mean arterial pressure
Model 2: pulse pressure
Results
Characteristis of the Sample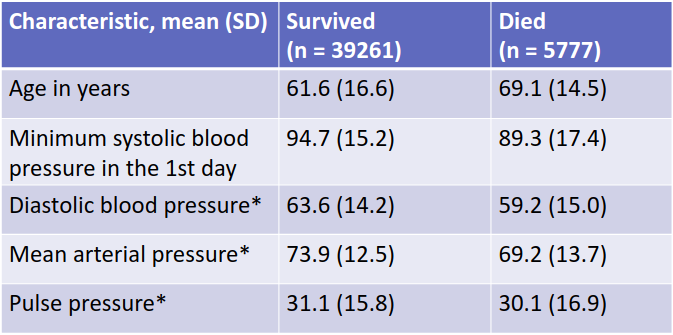 SD: standard deviation *Values taken when the minimum systolic blood pressure where observed in the first 24h of ICU admission
MAP vs PP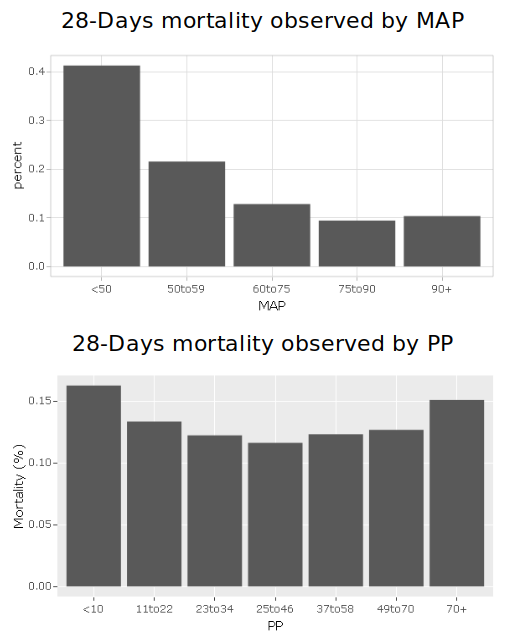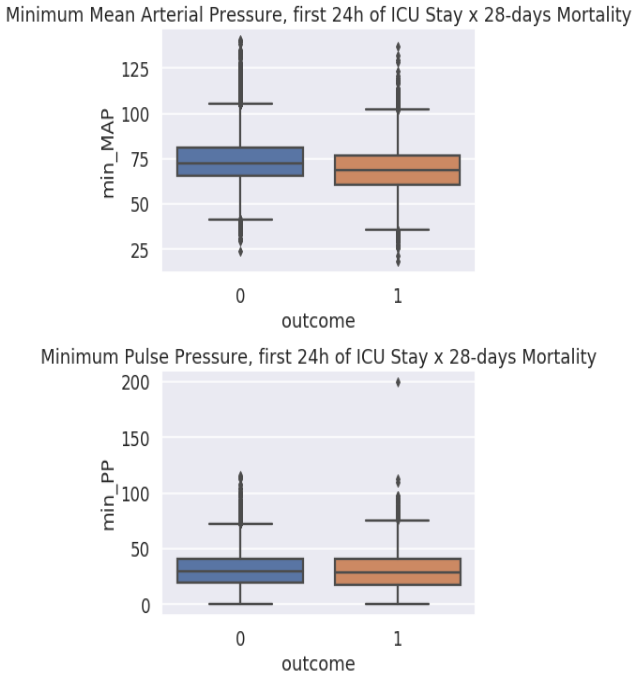 Logistic Regression
Outcome = 28-days mortality
Model 1: predictor = mean arterial pressure OR = 0.9694 95% IC = 0.9672 - 0.9717
Model 2: predictor = pulse pressure OR = 0.9960 95% IC = 0.9942 - 0.9977
Discussion and Next Steps
MAP assessment alone might not be useful to predict outcome to all ICU patients
Preliminary result: PP assessment looks to be a better outcome predictor for "higher PP" patients
Promising results: min PP>70 - No min MAP difference between outcomes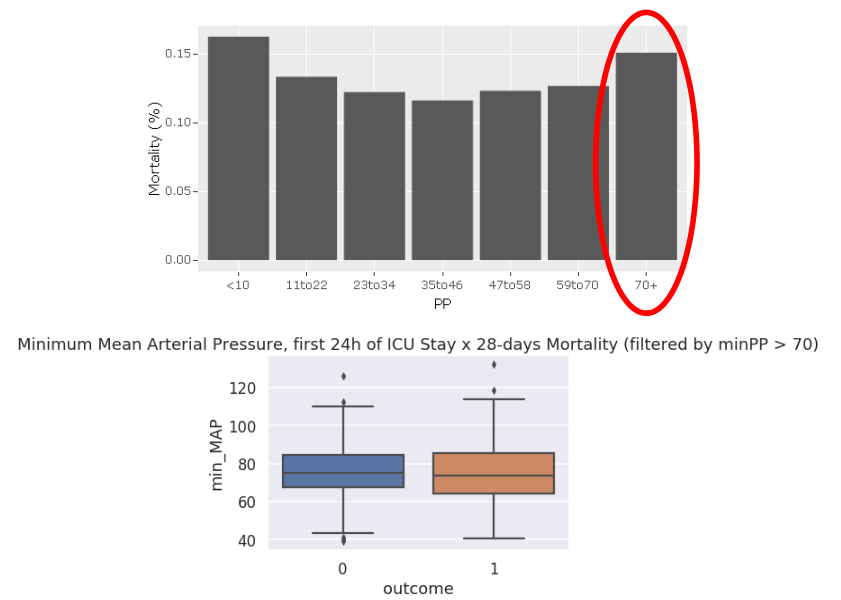 Next Steps:
Group analysis: who are those patients? Are they elderly people?
Check ICU interventions (mechanical ventilation, vasopressors etc)?
Should we develop a specific guideline for those patients?